"The handsome man with the boyish, open face"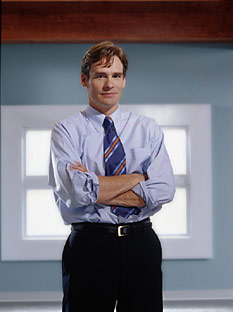 Robert Sean Leonard as Dr. James Wilson. Tuesdays (9:00-10:00 PM ET/PT) on FOX.
©2004 FOX BROADCASTING COMPANY
Credit: Nigel Parry/FOX

Apparently that's what they were looking for when they were casting Dr Wilson, and they found it in Robert Sean Leonard, who says, "I like being the guy who isn't the guy but that the guy counts on. Plus I've wanted to be Tony Randall all my life." That's a reference to The Odd Couple, by the way.

But that's just scratching the surface of who Wilson is. I sat down a couple of weeks ago and thought I'd make a list of things I could write about here in case I needed inspiration later. It's a huge list!

Why do we like Dr Wilson?

Women, wives, marriage and divorce

Advice given about relationships

What do we find out in each episode?

Is he a womaniser?

What else does RSL have to say about Wilson?

Attitudes to patients

Wilson and House - why are they friends?

Wilson/Cameron

Stacy

What kind of

woman does he go for?

Why is he s

o attr

active to women?

Wilson the oncologist

The affair(s?)

If there's anything not on the lis

t that you'd like me to write about, please leave a comment. And
I'd love to hear from anyone who can point me in the direction of any quotes from RSL about Wilson, because that one up there is the only one I've found so far!

One final thing - yes, I'm aware of the Wilson/House slash that some people try to find in the show, b
ut I'm not going to talk about it unless it's actually mentioned in an episode (ie.
Spin
).
Just FYI
:-)